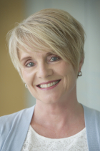 Jane Johnson
Research Assistant
Phone: (519) 888-4567 ext. 45818
Email: jane.johnson@uwaterloo.ca
Jane joined CORE in 2007 after 20 years of administrative experience in optometry and dentistry. She is responsible for the management, distribution and accountability of all study products used in CORE's research studies.    Jane also educates study participants on the proper use of assigned study products as per protocol requirements.  She has a graduate-level certification as a Clinical Research Associate and is a member of CORE's regulatory team.
---

Barbara McKechnie
Recruitment and Marketing Coordinator
Phone: (519) 888-4567 ext. 47187
Email: bdmckechnie@uwaterloo.ca
Barbara brings many years of professional experience in marketing, communications, and journalism to the recruitment team. Her background spans various industries, including the University of Toronto and a professional marketing agency, and she has also worked as a features reporter and freelance writer for local and national media. Barbara is also a trained horticulturist and an active member of Guelph-Wellington Master Gardeners. She has served on several volunteer leadership committees and boards of directors.
---


Deb Murray
Resource Coordinator
Phone: (519) 888-4742
Email: d9murray@uwaterloo.ca
Deb joined CORE in 2013. She has 28 years of secretarial and reception experience in family medicine.
---

Jake Pavicic, BA
Study Administrative Assistant
Phone: (519) 888-4567 ext. 40517
Email: jdpavicic@uwaterloo.ca
Jake has a Bachelor of Psychology (Hons.) from the University of Waterloo where he joined four psychology research labs. His previous work focused on factors that impact the effectiveness of psychological therapy, the relationship between shyness and cooperativeness in children, and gender differences in counter-stereotypical career choice. He is currently involved in marketing studies, scheduling participants, and handling regulatory documents.
---


Nicole Tavares, BASc
Research Assistant
Phone: (519) 888-4567 ext. 46907
Email: nicole.tavares@uwaterloo.ca
Nicole has a Bachelor of Applied Chemistry and Chemical Engineering from the University of Toronto. She has previously performed research in regenerative medicine and electroplated nanomaterials. Prior to joining CORE in 2018, she worked as a crafting instructor/social media manager for small businesses.
---


Marilyn Thom
Administrative Assistant
Phone: (519) 888-4567 ext. 47188
Email: marilyn.thom@uwaterloo.ca
Marilyn joined CORE as an ophthalmic assistant in 2006. Before joining CORE, she worked as secretary and receptionist for the School of Optometry's contact lens clinic, and in the pediatric and special needs clinic.
---


Leona Voss
Resource Coordinator
Phone: (519) 888-4567 ext. 31751
Email: lvoss@uwaterloo.ca
Leona has worked in the optometric field since 1988 and has been at the Centre for Ocular Research & Education since 1990. She is responsible for scheduling appointments for studies and participant and project remuneration.
---


Jie Yan
Research Assistant
Phone: (519) 888-4567 ext. 43105
Email: j39yan@uwaterloo.ca
Jie joined CORE in 2022, and is involved in the dispensing and returning of study products, and managing study product accountability throughout each study.