Issue #51 Presents Key Learnings & Advice for Instant Application to Everyday Practice
WATERLOO, Ontario, December 16, 2019—The Centre for Ocular Research & Education (CORE) has published issue number 51 of its free online education magazine, Contact Lens Update. For the first time, an entire edition has been dedicated to a single conference: the Canadian Dry Eye Summit, which was held in Toronto in mid-November.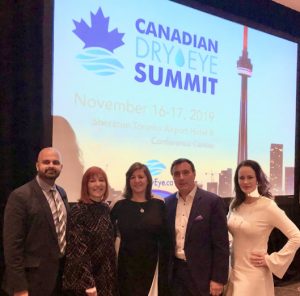 "Clinical management of dry eye disease is front of mind for many practitioners as they explore building and expanding their contemporary evidence-based practice," said Karen Walsh, CORE clinical scientist and Contact Lens Update editor. "We're excited to bring the best of the Canadian Dry Eye Summit to professionals around the world through our newest issue."
In its second year, the sold-out two-day conference delivered credible and practical education to nearly two hundred optometrists. Speakers ranged from authors of the Tear Film and Ocular Surface (TFOS) Society's Dry Eye Workshop (DEWS) II report, to TFOS DEWS II global ambassadors, through to practitioners who are already successfully operating dry eye specialties in their businesses.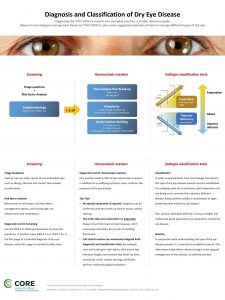 Key observations from the speakers are summarized in the editorial of this special edition along with a downloadable summary of the TFOS DEWS II diagnostic and treatment algorithms designed by CORE. The conference highlights section covers how to take steps to start or expand a dry eye practice. Nutrition and supplementation as they relate to dry eye are reviewed in the feature article, and a clinical insight focuses on the use of symptom questionnaires.
"We were delighted with the level of enthusiasm displayed by the practitioners attending the summit," said Dr. Richard Maharaj, specialist dry eye practitioner and educational chair of the conference. "We hope the education shared will help practitioners to better serve their dry eye patients, and believe this collaboration with CORE and Contact Lens Update will help disseminate that information to a much wider audience. Dry eye practice is a rewarding area in which to specialize. I encourage any interested practitioners to read this edition of Contact Lens Update, to consider attending one of our two conference dates for 2020 in Vancouver and Toronto and to stay engaged with our online learning resource which is currently being developed."
Published six times per year, Contact Lens Update provides a global platform for unbiased clinical insights based in current research. Since 2011, each issue has provided dependable and up-to-date ocular health information for more than 60,000 leading eye care professionals.
In addition to a complete archive of back issues, ContactLensUpdate.com offers a resource library that provides no-cost professional tools, patient resources, images and video. It also houses complimentary technical training videos produced by International Association of Contact Lens Educators, plus an industry glossary. Industry professionals can access the latest issue directly from ContactLensUpdate.com or quickly sign up for email receipt of future issues.
The publication receives support from the educational arms of CooperVision, Alcon and Johnson & Johnson Vision.
# # #
About the Centre for Ocular Research & Education (CORE)
The Centre for Ocular Research & Education (CORE) was established in 1988 at the University of Waterloo's School of Optometry & Vision Science. Over the next three decades, the organization evolved from a three-person operation into a thriving hub of basic and applied research, collaborating with sponsors, agencies and academia on advanced biosciences, clinical research and education. Its uncompromising independence and results of the highest quality have been at the heart of many of the most prominent advances in eye health. Today, its approximately 50-person team serves a range of ophthalmic sectors, including medical devices, ocular pharmaceuticals, digital technology and others, with a focus on the anterior segment. For more information, please visit core.uwaterloo.ca.
MEDIA CONTACTS
Aimee J. Lewis or Mike McDougall, APR, Fellow PRSA, McDougall Communications for CORE
aimee@mcdougallpr.com +1.585.414.9838  |  mike@mcdougallpr.com +1.585.545.1815