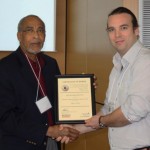 To …
Brad Hall, for being awarded the Murchison Callender Young Investigator Award at the 8the Canadian Optometry Schools Research Conference.
Lyndon Jones, for being awarded the Dr. Donald R. Korb Award by the American Optometric Association's Contact Lens and Cornea Section, in recognition of innovation and leadership in the field of contact lenses and anterior segment disease.
Jill Woods and William Ngo, for becoming new Fellows of the American Academy of Optometry.