SICS has been discussed in the literature for nearly 20 years, but are we any closer to understanding the mechanisms by which it occurs and its clinical significance?
WATERLOO, Ontario,  July 24, 2019—The Centre for Ocular Research & Education (CORE) has published the latest edition of Contact Lens Update, available for free at ContactLensUpdate.com. Issue 48 focuses on exploring solution induced corneal staining (SICS).
Eric Papas, PhD, BSc, Dip CL, FAAO, provides a fascinating perspective of the journey the optometric profession has taken in order to better understand the phenomenon of transitory punctate corneal staining associated with reusable contact lens wear. Is it the lens material, the preservative in the care solution, or perhaps another agent? Read his editorial to find out more.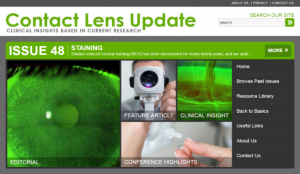 Over the past few years, a better understanding has been reached of what is happening at the cellular level when this type of staining occurs, and has provided suggestions both for the mechanism by which this occurs and the agents that may be responsible. Novel in vitro experimentation by Tahmina Khan, PhD, contributes  recent evidence in this area, highlighted in a  poster. In this issue, David McCanna, PhD, research assistant professor at CORE, shares a review of Khan's manuscript.
Ultimately, for the eye care practitioner, what are the key facts to remember? A free-to-download reference tool delivers a two-minute summary of the evolution of our understanding of SICS, along with addressing what ECPs should consider when it occurs in patients.
# # #
Published six times per year, Contact Lens Update provides a global platform for unbiased clinical insights based in current research. Since 2011, each issue has provided dependable and up-to-date ocular health information for more than 60,000 leading eye care professionals.
In addition to a complete archive of back issues, ContactLensUpdate.com offers a resource library that provides no-cost professional tools, patient resources, images and video. It also houses complimentary technical training videos produced by International Association of Contact Lens Educators, plus an industry glossary. Industry professionals can access the latest issue directly from ContactLensUpdate.com or quickly sign up for email receipt of future issues.
The publication receives support from the educational arms of Alcon and Johnson & Johnson Vision.
# # #
About the Centre for Ocular Research & Education (CORE)
The Centre for Ocular Research & Education (CORE) was established in 1988 at the University of Waterloo's School of Optometry & Vision Science. Over the next three decades, the organization evolved from a three-person operation into a thriving hub of basic and applied research, collaborating with sponsors, agencies and academia on advanced biosciences, clinical research and education. Its uncompromising independence and results of the highest quality have been at the heart of many of the most prominent advances in eye health. Today, its approximately 50-person team serves a range of ophthalmic sectors, including medical devices, ocular pharmaceuticals, digital technology and others, with a focus on the anterior segment. For more information, please visit core.uwaterloo.ca.
MEDIA CONTACTS
Aimee J. Lewis or Mike McDougall, APR, Fellow PRSA, McDougall Communications for CORE
aimee@mcdougallpr.com +1.585.414.9838  |  mike@mcdougallpr.com +1.585.545.1815