A special issue of Contact Lens Update addresses the facts, and dispels misinformation about contact lens wear and coronavirus (COVID-19)
WATERLOO, Ontario, March 16, 2020—The Centre for Ocular Research & Education (CORE) has published issue number 53 of its free online education magazine, Contact Lens Update. This special issue provides a timely response for practitioners, providing evidence-based information on contact lenses and COVID-19, along with clear recommendations of techniques to use with patients to help promote safe lens wear.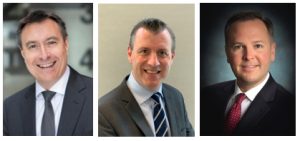 The editorial addresses these issues, expanding on a recent joint statement from three global contact lens experts. Professors Lyndon Jones, Philip Morgan and Jason Nichols provide clarity on contact lens wear safety, correct handwashing techniques and best-practice when feeling unwell. Information that is echoed by an increasing number of professional bodies, academic institutions and contact lens manufacturers.
Hand washing remains a fundamental cornerstone of safe contact lens wear, a message central to the paper by Emeritus Professor Desmond Fonn that is reviewed in the feature article. The evidence for patient education and simple interventions to help patients reduce their contact with water is also shared in the conference highlight section. To help support practitioners when educating patients, the clinical insight page pools the relevant tools that can be used with patients to help support safe wear and care of their contact lenses.
"We understand the relevance of good hand washing practices for everyone in the current climate of COVID-19" said Dr Jones, "beyond the current heightened focus, it is also prudent to remind contact lens wearers of their ongoing need to conduct good hand hygiene prior to touching their lenses and eyes."
This contact lens update special issue has been produced to reassure eye care practitioners, providing clear information that can be used with patients to promote continued safe wear of their contact lenses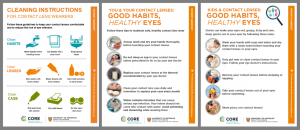 Published six times per year, Contact Lens Update provides a global platform for unbiased clinical insights based in current research. Since 2011, each issue has provided dependable and up-to-date ocular health information for more than 60,000 leading eye care professionals.
In addition to a complete archive of back issues, ContactLensUpdate.com offers a resource library that provides no-cost professional tools, patient resources, images and video. It also houses complimentary technical training videos produced by International Association of Contact Lens Educators, plus an industry glossary. Industry professionals can access the latest issue directly from ContactLensUpdate.com or quickly sign up for email receipt of future issues.
The publication receives support from the educational arms of Alcon, CooperVision, and Johnson & Johnson Vision.
# # #
About the Centre for Ocular Research & Education (CORE)
The Centre for Ocular Research & Education (CORE) was established in 1988 at the University of Waterloo's School of Optometry & Vision Science. Over the next three decades, the organization evolved from a three-person operation into a thriving hub of basic and applied research, collaborating with sponsors, agencies and academia on advanced biosciences, clinical research and education. Its uncompromising independence and results of the highest quality have been at the heart of many of the most prominent advances in eye health. Today, its approximately 50-person team serves a range of ophthalmic sectors, including medical devices, ocular pharmaceuticals, digital technology and others, with a focus on the anterior segment. For more information, please visit core.uwaterloo.ca.
MEDIA CONTACTS
Aimee J. Lewis or Mike McDougall, APR, Fellow PRSA, McDougall Communications for CORE
aimee@mcdougallpr.com +1.585.414.9838  |  mike@mcdougallpr.com +1.585.545.1815