Latest Issue Designed for ECPs Interested in Ortho-K but Don't Know Where to Start and for Those Seeking Updates on New Research in the Field
WATERLOO, Ontario, October 31, 2019—The Centre for Ocular Research & Education (CORE) has published its 50th edition of Contact Lens Update. Since the first issue in 2011, the digital magazine has been translating latest global research into relevant, practical advice for eye care professionals.
"Feedback from subscribers shows more than nine out of ten practitioners say Contact Lens Update is a useful resource, provides relevant information and helps them stay informed1," said Karen Walsh, CORE clinical scientist and its editor. "Given that track record, CORE is delighted to release the landmark 50th issue as a special edition focused on ortho-K."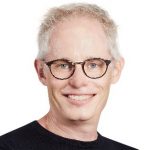 Paul Gifford, the noted Australian optometrist and research scientist specializing in ortho-K and myopia control, was invited by CORE to curate the special edition. His editorial is a comprehensive guide to getting started with ortho-K, covering basic theory, considerations about astigmatism, and how to select suitable patients for those first few fits.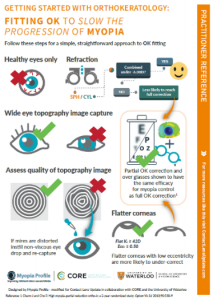 The key takeaways from that editorial can be found in the free-to-download clinical insight practitioner factsheet. This has been designed as a handy, quick reference guide on how to take those first few steps in ortho-K fitting.
Paul's feature article reviews the current evidence and ongoing work on the potential for delivering more effective myopia control through customized ortho-K lens design.
The conference highlight shares interim results from a current study examining the efficacy of combining ortho-K with pharmacological treatments.
"I am delighted to be given the opportunity to produce this special issue of Contact Lens Update," said Gifford. "Practitioners are naturally interested in myopia control, and whilst many have heard of the results that can be achieved with ortho-K, they may not feel confident to start fitting the lenses themselves. My hope is the information we have produced will help them take those early, simple steps into the world of ortho-K"
Published six times per year, Contact Lens Update provides a global platform for unbiased clinical insights based in current research. Since 2011, each issue has provided dependable and up-to-date ocular health information for more than 60,000 leading eye care professionals.
In addition to a complete archive of back issues, ContactLensUpdate.com offers a resource library that provides no-cost professional tools, patient resources, images and video. It also houses complementary technical training videos produced by International Association of Contact Lens Educators, plus an industry glossary. Industry professionals can access the latest issue directly from ContactLensUpdate.com or quickly sign up for email receipt of future issues.
The publication receives support from the educational arms of CooperVision, Alcon and Johnson & Johnson Vision.
# # #
About the Centre for Ocular Research & Education (CORE)
The Centre for Ocular Research & Education (CORE) was established in 1988 at the University of Waterloo's School of Optometry & Vision Science. Over the next three decades, the organization evolved from a three-person operation into a thriving hub of basic and applied research, collaborating with sponsors, agencies and academia on advanced biosciences, clinical research and education. Its uncompromising independence and results of the highest quality have been at the heart of many of the most prominent advances in eye health. Today, its approximately 50-person team serves a range of ophthalmic sectors, including medical devices, ocular pharmaceuticals, digital technology and others, with a focus on the anterior segment. For more information, please visit core.uwaterloo.ca.
MEDIA CONTACTS
Aimee J. Lewis or Mike McDougall, APR, Fellow PRSA, McDougall Communications for CORE
aimee@mcdougallpr.com +1.585.414.9838  |  mike@mcdougallpr.com +1.585.545.1815
Reference
1. Contact Lens Update annual survey, 2019. n=96, top 2 box, strongly agree/somewhat agree