WATERLOO, Ontario, April 19, 2022—The Centre for Ocular Research & Education (CORE) has appointed Rosa Yang, OD, FAAO, as a clinical research associate, a move that supports the growing use of specialty contact lenses worldwide. Dr. Yang also serves as a clinical instructor at the University of Waterloo School of Optometry & Vision Science and is a practicing optometrist in the Greater Toronto Area.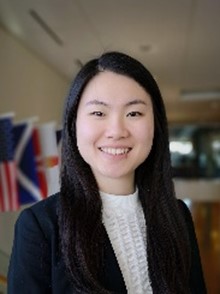 "Rosa's work on improving the clinical efficacy of specialty lenses through optimized design and auxiliary technologies—especially for myopia control and visual rehabilitation—is a natural fit with CORE's growing work in these sectors," said Dr. Lyndon Jones, CORE's director.
Dr. Yang's cornea and contact lens residency at the University of Waterloo focused on managing patients who exhibited corneal ectasia and severe dry eye with specialty contact lenses, as well as myopia control therapies that included orthokeratology. At the 2020 Global Specialty Lens Symposium, she was lead author on the first place poster in the clinical category, Special Considerations in Managing a Patient with Penetrating Trauma Using Gas Permeable Contact Lens.
She is a past recipient of the American Academy of Optometry Sheldon Wechsler Contact Lens Residency Award, recognizing talented optometric residents who demonstrate a passion and commitment to practice, research, and education.
CORE's specialty contact lens-related work spans a range of program areas, including design optimization for orthokeratology, scleral lens physiological performance, and the impact of scleral lenses on ocular surface disease and dry eye management.
"As specialty lenses become more embedded in mainstream clinical practice, CORE is committed to maintaining our leadership in fundamental and clinical research, in addition to the development of professional educational materials," said Dr. Jones. "We're enthusiastic about Dr. Yang enriching our specialty capacity—an important area for CORE that will grow even stronger in the coming months."
# # #
About the Centre for Ocular Research & Education (CORE)
The Centre for Ocular Research & Education (CORE) – formerly known as the Centre for Contact Lens Research – was established in 1988 at the University of Waterloo's School of Optometry & Vision Science. Over the next three decades, the organization evolved from a three-person operation into a thriving hub of basic and applied research, collaborating with sponsors, agencies and academia on advanced biosciences, clinical research and education. Its uncompromising independence and results of the highest quality have been at the heart of many of the most prominent advances in eye health. Today, its approximately 50-person team serves a range of ophthalmic sectors, including medical devices, ocular pharmaceuticals, digital technology and others, with a focus on the anterior segment. For more information, please visit core.uwaterloo.ca.
MEDIA CONTACTS:
Aimee J. Lewis or Mike McDougall, APR, Fellow PRSA
McDougall Communications for CORE
aimee@mcdougallpr.com +1.585.414.9838  |  mike@mcdougallpr.com +1.585.434.2150