Scleral Expert Dr. Melissa Barnett Curates Issue No. 56
WATERLOO, Ontario, November 2, 2020—The Centre for Ocular Research & Education (CORE) has published issue number 56 of its free online education magazine, Contact Lens Update. The latest edition reviews multiple topics relevant to current and future uses of scleral contact lenses.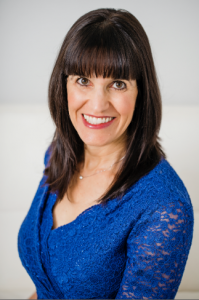 The issue is curated by Melissa Barnett, principal optometrist at the University of California, Davis Eye Center and past president of the Scleral Lens Education Society. Her editorial tackles hot topics including the use of scleral lenses in keratoconus and how to recognise and address midday fogging. She also explores potential future uses of scleral lenses, from ocular drug delivery to smart lenses.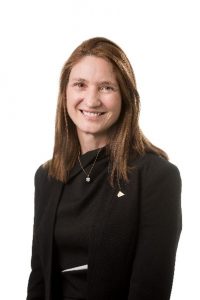 The role of the filling solution is examined in both the feature article and the conference highlight. A unique challenge of scleral lenses is midday fogging that can occur in the post-lens fluid reservoir; which is a frustrating problem for practitioners and patients alike. The results of a study by Jennifer Fogt to investigate if a novel filling solution can mitigate this challenge are reported along, with a review of midday fogging in general.
Fiona Stapleton's conference highlight looks at the impact on comfort and vision by adding a lubricating drop to the filling solution ahead of lens wear.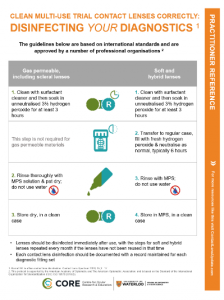 Spotlighting advice that is always necessary yet elevated in the COVID-19 climate of ensuring safety, a downloadable practitioner reference details the correct steps to disinfect reusable diagnostic lenses in practice. The simple directions in the printable fact sheet cover the different steps required for rigid, soft and hybrid contact lens materials.
Published six times per year, Contact Lens Update provides a global platform for unbiased clinical insights based in current research. Since 2011, each issue has provided dependable and up-to-date ocular health information for more than 60,000 leading eye care professionals.
In addition to a complete archive of back issues, ContactLensUpdate.com offers a resource library that provides no-cost professional tools, patient resources, images and video. It also houses complimentary technical training videos produced by International Association of Contact Lens Educators, plus an industry glossary. Industry professionals can access the latest issue directly from ContactLensUpdate.com or quickly sign up for email receipt of future issues.
The publication receives support from the educational arms of Alcon, CooperVision, and Johnson & Johnson Vision.
# # #
About the Centre for Ocular Research & Education (CORE)
The Centre for Ocular Research & Education (CORE) was established in 1988 at the University of Waterloo's School of Optometry & Vision Science. Over the next three decades, the organization evolved from a three-person operation into a thriving hub of basic and applied research, collaborating with sponsors, agencies and academia on advanced biosciences, clinical research and education. Its uncompromising independence and results of the highest quality have been at the heart of many of the most prominent advances in eye health. Today, its approximately 50-person team serves a range of ophthalmic sectors, including medical devices, ocular pharmaceuticals, digital technology and others, with a focus on the anterior segment. For more information, please visit core.uwaterloo.ca.
MEDIA CONTACTS
Aimee J. Lewis or Mike McDougall, APR, Fellow PRSA, McDougall Communications for CORE
aimee@mcdougallpr.com +1.585.414.9838  |  mike@mcdougallpr.com +1.585.545.1815