Piloted with AdHawk Microsystems for Consumer Electronics and Medical Applications
WATERLOO, Ontario, June 30, 2020—OcuBlink, the developer of sophisticated eye models for ophthalmic-related testing, has introduced the first synthetic eyeball for augmented and virtual reality validation applications. The newest models have nearly identical optical properties as human eyes, including mimicking the complexity of how visible and infrared light reflects through the pupil and across the limbus. The design, engineering and manufacturing process results in an optically clear, standardized and stable eyeball that enables testing consistency.
The product is being piloted by AdHawk Microsystems to calibrate eye tracking in advanced AR/VR systems for medical and consumer electronics applications. AdHawk produces custom, wafer-scale silicon devices to accelerate the proliferation of eye tracking in a broad range of devices. Its MEMS-based eye tracker captures subtle changes in eye movement dynamics, enabling effortless, ultra-low-latency control of wearable devices while revealing people's interests, emotional state and brain health.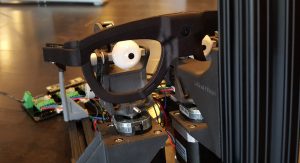 AdHawk has incorporated the OcuBlink eyeballs into its round-the-clock robotic testing system to evaluate its algorithms and new devices, such as AR/VR glasses, with a high degree of replicability. This precision is required for the company's unique microsystems that take and process thousands of measurements every second, allowing on-the-fly velocity calculations with unprecedented resolution. Since velocity profiles of saccades (the rapid involuntary movements of the eye) are highly consistent, AdHawk's proprietary algorithms can predict where a user will look.
"By using OcuBlink synthetic eye models, AdHawk is able to run reliable, consistent tests all day, every day," says Neil Sarkar, PhD, CEO and co-founder of AdHawk. "We can run tests remotely and when our facilities are unstaffed. We wouldn't be able to do this work as effectively or precisely with more traditional eyeball substitutes."
"Our innovations are advancing and accelerating how researchers, corporations, universities and others can interact with the eye," says Chau-Minh Phan, MSc, PhD, FAAO, co-founder of OcuBlink. "This includes our OcuBlink system for on-eye fluidics testing, our Ocuball products for foreign body removal training, and now our synthetic offering for AR/VR system validation. These are fantastic products in their own right, and also serve as building blocks for even more pronounced innovations in our artificial eye pipeline."
OcuBlink, Inc. began as an initiative of the Centre for Ocular Research & Education (CORE) and now operates as an affiliate, utilizing CORE's staffing, counsel and laboratories. In the fall of 2018, OcuBlink was accepted into Velocity, Canada's most productive startup incubator. In 2019, OcuBlink, Inc. released Ocuball, life-like polymer-based eyeballs that reduce dependence on animal testing and are in use by optometry schools worldwide to train students in foreign body removal.
For more information, visit OcuBlink.com.
Editor's Note: Download the full-resolution version of OcuBlink synthetic eyeballs being used by AdHawk Microsystems by clicking here.
# # #
About OcuBlink Inc.
OcuBlink develops sophisticated in vitro eye models for ophthalmic companies to accelerate research and development of products for the eye. These include devices for studying anterior and posterior eye disease and contact lens offerings, and its platforms have already been the subject of six conference abstracts and seven papers highlighting the technology. OcuBlink is affiliated with the Centre for Ocular Research and Education (CORE), based at the School of Optometry & Vision Science, University of Waterloo, Ontario, Canada. For more information, visit OcuBlink.com.
About the Centre for Ocular Research & Education (CORE)
The Centre for Ocular Research & Education (CORE) – formerly known as the Centre for Contact Lens Research – was established in 1988 at the University of Waterloo's School of Optometry & Vision Science. Over the next three decades, the organization evolved from a three-person operation into a thriving hub of basic and applied research, collaborating with sponsors, agencies and academia on advanced biosciences, clinical research and education. Its uncompromising independence and results of the highest quality have been at the heart of many of the most prominent advances in eye health. Today, its approximately 50-person team serves a range of ophthalmic sectors, including medical devices, ocular pharmaceuticals, digital technology and others, with a focus on the anterior segment. For more information, please visit core.uwaterloo.ca.
MEDIA CONTACTS:
Aimee J. Lewis or Mike McDougall, APR, Fellow PRSA
McDougall Communications for CORE
aimee@mcdougallpr.com +1.585.414.9838  |  mike@mcdougallpr.com +1.585.434.2150