WATERLOO, Ontario, October 18, 2018—OcuBlink, Inc., which is developing sophisticated in vitro eye models for ophthalmic testing, has been accepted into Velocity, widely acknowledged as Canada's most productive startup incubator.
The move will allow OcuBlink access to increased laboratory space, advanced equipment for device prototyping, and an inclusive, interdisciplinary environment designed to stimulate innovation, entrepreneurial thinking and successful commercialization. It also provides a gateway to additional professional expertise and a network of emerging and developed Velocity-fueled businesses.
OcuBlink began as an initiative of the Centre for Ocular Research & Education (CORE) and now operates as an affiliate, utilizing CORE's staffing, counsel and laboratories. It intends to co-locate staff at CORE offices in Waterloo as well as the Velocity Garage complex in nearby Kitchener, Ontario.
"Our acceptance into the Velocity Garage will further accelerate our development path, benefitting fellow researchers and ophthalmic industry organizations who have shown interest in the technology," said OcuBlink Chief Executive Officer Hendrik Walther, PhD, MSc, BSc Optom. "We expect to unveil a fully functioning prototype in early 2019, taking us to the next stage of testing and validation."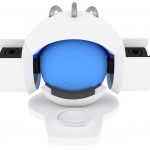 Traditional ocular testing uses a vial or a test tube for early stage research, with later pre-clinical studies performed using an animal model. However, vials and test tubes do not remotely resemble the complex structure of the eye, leading to variable outcomes, and increasing regulation and public opinion is limiting animal experimentation. Incorporating OcuBlink to test concepts and prototypes at an earlier stage will minimize costs, reduce animal experimentation, and create deeper understanding of the underlying science of how new and existing products interact with the eye.
For more information, visit OcuBlink.com.
# # #
About OcuBlink Inc.
OcuBlink develops sophisticated in vitro eye models for ophthalmic companies to accelerate research and development of products for the eye. These include devices for studying anterior and posterior eye disease and contact lens offerings, and its platforms have already been the subject of six conference abstracts and seven papers highlighting the technology. Ocublink is affiliated with the Centre for Ocular Research and Education (CORE), based at the School of Optometry & Vision Science, University of Waterloo, Ontario, Canada. For more information, visit OcuBlink.com.
About the Centre for Ocular Research & Education (CORE)
The Centre for Ocular Research & Education (CORE) – formerly known as the Centre for Contact Lens Research – was established in 1988 at the University of Waterloo's School of Optometry & Vision Science. Over the next three decades, the organization evolved from a three-person operation into a thriving hub of basic and applied research, collaborating with sponsors, agencies and academia on advanced biosciences, clinical research and education. Its uncompromising independence and results of the highest quality have been at the heart of many of the most prominent advances in eye health. Today, its approximately 50-person team serves a range of ophthalmic sectors, including medical devices, ocular pharmaceuticals, digital technology and others, with a focus on the anterior segment. For more information, please visit core.uwaterloo.ca.
MEDIA CONTACTS:
Aimee J. Lewis or Mike McDougall, APR, Fellow PRSA
McDougall Communications for CORE
aimee@mcdougallpr.com +1.585.414.9838  |  mike@mcdougallpr.com +1.585.434.2150
https://core.uwaterloo.ca/news/ocublink-inc-accepted-into-velocity-canadas-most-productive-startup-incubator/